As a midlife woman I know I have to be careful when I workout. Our muscles and ligaments are tight from lack of use. Our joints are at risk from over use through the years. But I know I have to continue to workout to strengthen my muscles, tighten and tone, not to mention lose weight.
So I was intrigued when I was asked to review a brand new book that promises a 10 Minute No-Sweat Anti-Aging workout. Sounds like a winner! Who doesn't want a simple and effective choice for building strength and beautiful muscles without overworking?
Here are my thoughts on this revolutionary book.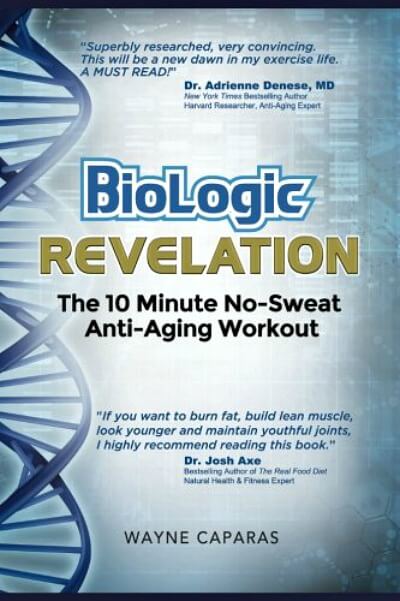 BioLogic Revelation: The 10 Minute No-Sweat Anti-Aging Workout by Wayne Caparas
WestBow Press
Published: April 2017
ISBN: 9781512775648
About Biologic Revelation
"Superbly researched, very convincing. . . BioLogic Revelation is a New Dawn in the way we need to work out. Forget your daily, hour long, sweaty, modestly effective exercise routine. You need quality, over quantity. There is a better, quicker, more effective way for better results based on solid scientific research. Personally, I modified my routine based on these well-researched facts and I am loving the results. A MUST READ!"
Dr. Adrienne Denese, M.D.
New York Times Bestselling Author
Harvard Researcher, Anti-Aging Expert
"If you want to burn fat, build lean muscle, look younger and maintain youthful joints then I highly recommend Wayne's new book BioLogic Revelation. In this book Wayne unlocks the secrets to not only getting in the best shape of your life but also how to use fitness to help you slow the aging process. If you're ready to transform your health and fitness level with less effort then I highly recommend reading this book and implementing the cutting edge and science-backed workout routine Wayne has created."
Dr. Josh Axe, Bestselling Author
Natural Health & Fitness Expert
Founder, DrAxe.com
"BioLogic Revelation is going to revolutionize the fitness industry with its heavily researched, time-proven body of work. . . As a proponent of non-punishing fitness, I am relieved Wayne Caparas has written BioLogic Revelation. Now I have the resource to prove that more is not better, harder is not the answer, and proper form is always key to the results one needs and wants. Thanks to this groundbreaking book, undeniable proof is finally in black and white for all to see. Talk about a revelation!"
Suzanne Bowen, Creator of BarreAmped
Internationally Renowned Fitness Expert
Founder, SuzanneBowenFitness.com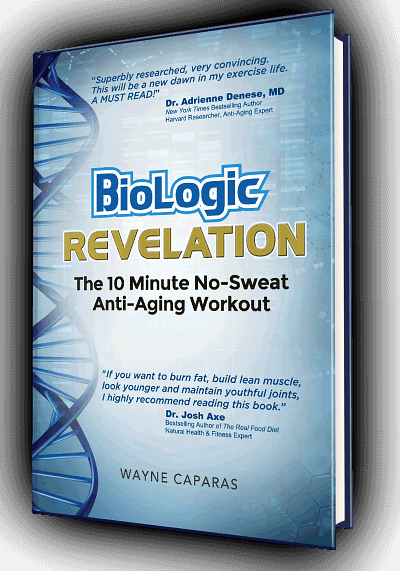 My Review of BioLogic Revelation: The 10 Minute No-Sweat Anti-Aging Workout by Wayne Caparas
Over-training your muscles is a large concern for athletes and beginners. That soreness that you feel in your muscles are actually microscopic tears and in order for them to fully heal ideally you need to rest those muscles for 10 to 14 days. The BioLogic Method targets specific muscle groups with short intensified workouts that you rotate so your muscles can heal completely before working them again.
There's a lot of science behind the BioLogic Method. It works and trains all fiber types in the target muscle group but it isn't until the final absolute rep that the exhaustion stimulus is applied. The final seconds of the BioLogic work out is worth more than all of the work leading up to the final rap.
Most people end up continuing to train a specific muscle groups after the point of exhaustion which can do it more harm than good.
The good news is that by resting fully you can actually revive muscle fibers to a degree. By re-training yourself to a different technique outlined in the BioLogic Revelation, it will give you amazing results and protect your valuable muscles.
There is a lot of misinformation in fitness industry. This author has done a massive amount of research how to best build your muscles for fight or flight response without the prolonged damage that was caused by years of weightlifting.
This book details so much information on the proper method to develop strong long-lasting muscles. This method will help to protect your muscles so they will not be injured or a breakdown, like many bodybuilders find as they age.
What I like about this author is he is adamant about doing your workouts properly, without injury. There is even an app created to help keep you on task called the BioLogic Mobile app.
Wayne Caparas stresses that including an active lifestyle outside of the exercises along with proper nutrition will make sure that it is worth your time and commitment to try this new workout variation. You will see results.
The author breaks down the basic muscle grouping into what's called a supergroup. These are the groups that you would focus on working out in sequence. The classic 10 minute no sweat work out with something he calls The Healer.
This workout will focus on each supergroup once every 7 to 14 days. The basic workout is six 10 minute workouts, once a week with the seventh day set apart as a day of rest. Some people will want 10 to 14 days of recovery before starting again. There are several other variations you could do, like a Weekend workout.
The author also goes through stretching and resting so that you are positively avoiding stress on your ligaments and tendons. Plus there is a chapter on nutrition to make this a complete program that you can effectively apply for wonderful results.
This book is an eye opening read. The extensive research will hopefully open the eyes of the fitness industry. As a women in the mid-life age group, it is definitely a program that will benefit me. While I love to workout with weights, I will be adding his routine into my schedule so I can protect my body and joints to maximize my workout in the best manner.
After all, I am all about no sweat and who doesn't have 10 minutes to workout? Quality over quantity wins every time!
Disclaimer: Chris has personally reviewed the product listed above. She has not received any monetary compensation for her review but did receive a free ebook so she could evaluate and use it for this post. Her thoughts & opinions in this review are unbiased & honest and your opinions may differ.