* product received for review purposes
About 10 years ago or so I discovered the great effects a trampoline offers your body. I purchased one a professional one with a stabilizing bar and have used it off and on. I use it for cooling down after my weightlifting and I also use it in conjunction with my recumbent bike for my cardio workouts. It is one of my favorite pieces of equipment.
However, I never really used it to its full capacity. Because of my weight I can really feel it in my feet and toes so I can't bounce as high or as long as I would like to. But I'm always working on lengthening the amount of time on the trampoline because I know it is excellent for people of all ages. Plus, it really offers amazing health benefits.
I have shared with you other workouts by Suzanne Bowen and I was excited to see that she has this new fitness DVD available that will help expand the use of the trampoline in conjunction with strength building and muscle development exercises.
In this review, I will break down the routines so you know what to expect.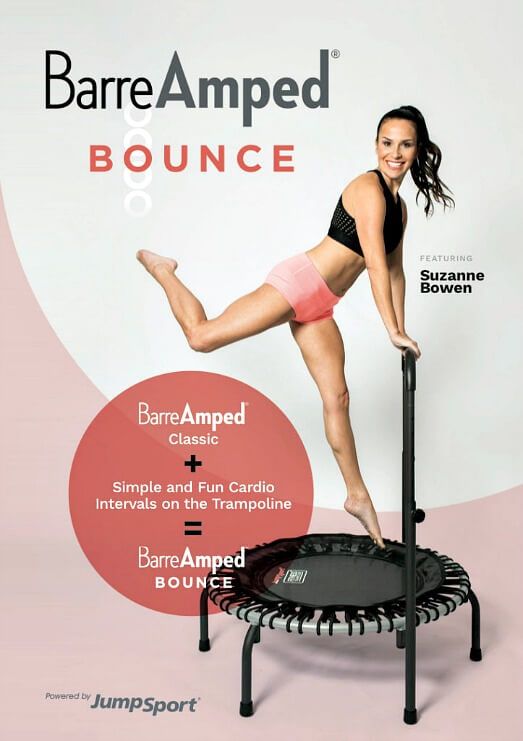 Overview:
BarreAmped Bounce is a fun, simple, and challenging collection of classic barre routines done on a JumpSport Fitness Trampoline. The trampoline creates a dynamic surface, provides the stable support of the added "barre" (handle bar) and becomes a cardio machine. Barre exercises performed on the trampoline speed up the #ShaketoChange and the fun! #BouncetoChange
Five rebounding barre routines for the ultimate workout!
Arms & Abs…………………….16 min
Thigh Bounce…………………..13 min
Booty Bounce…………………..13 min
Cardio Bounce………………….13 min
Total Body Bounce………………11 min
Stretch………………………..8 min
Needed for this workout: JumpSport Fitness Trampoline* Handle/barre, a Set of light weights (no more than 3 lbs) and Water
*If you already have a JumpSport trampoline, you only need to get the detachable handle bar!
Details on the BarreAmped Bounce Workout
Arms and Abs– is perfect for off the trampoline or on the trampoline. On the trampoline you're going to also be developing your feet and your balance. Her arm work is crazy and they're only using two and 3 pound weights.
Thigh Bounce– really works the legs in amazing ways. She combines barre positions with stretching and strength building on the trampoline. Some of these you could do on the floor, if you choose, as well. When you can see the legs and body shake on Suzanne and Jess, you know these are tough workouts. Very little impact but high in strength building and sculpting.
Booty Bounce– is a part of the thigh segments. It offers specific exercises that will help develop and strengthen your glutes and strengthen your back muscles too
Cardio Bounce– uses cardio and strength building moves to specifically work certain areas and build your heart rate too.
Total Body Bounce– works on and off the trampoline with compound moves including some weight work using small 2 pound weights. This is an advanced segment for those with good flexibility. You may need to use modifications as you work this segment. When Suzanne said she's on fire and is breathing heavy, you know this is a hard workout.
Stretching Workout– This is made for finishing off your work out. It's a way to stretch out all those muscles and get the lengthening and sculpting that you want.
Overall, BarreAmped Bounce is terrific work out for all levels of fitness. Suzanne and Jess offer two different methods doing each work out so you can choose to follow one or the other, depending on where you are physically and how comfortable you are.
Listening to your body is definitely key on this routine but it will definitely kick your tail and you will feel it tomorrow!
If you are interested in trying this workout routine you can enter the giveaway below.
About Suzanne:
Suzanne Bowen, founder of SBF and creator of Barreamped, has more than 16 years experience in the fitness industry. Classically trained in The Lotte Berk Method, the original barre studio in the U.S., Suzanne created BarreAmped, based on classic technique, a neutral spine, and a solid foundation of alignment.
Suzanne's mission in her work is to teach encouraging workouts based on strength, flexibility and cardio with safe alignment in efforts to help others achieve the results they desire in both body and mind. She hopes that her influence helps her followers get off the treadmill of perfection in order that they can be their best versions of themselves.
Giveaway of BarreAmped Bounce Fitness DVD with Suzanne Bowen
Enter to win a copy of the BarreAmped Bounce dvd. One winner! Follow the instructions below.
Giveaway Details: This giveaway is open to US Residents age 18 or over. You must complete the Mandatory Entry to be eligible. Follow the directions in the Giveaway Tool below. This giveaway will close on June 29, 2017 at 11:59pm PT Time.
Disclaimer:
Chris received complimentary product for review purposes. Prize provided by the Sponsor. Please read our Official Rules before entering this giveaway. We must receive all entries by the end date of the contest and the odds of winning are determined by the number of entries received. No purchase necessary to enter. A Midlife Wife is not responsible for prize fulfillment.