I have been addicted to apples since I was a small child. Our neighbors had a crab apple tree and I would spend hours up in the tree eating as many apples as I could. I loved them! Mom made amazing homemade Applesauce and for snacks I would eat apples as often as possible.
Today as a adult, I still love apples. Now I know the wonderful health benefits of apples. The old saying "An apple a day keeps the doctor away" has certainly worked for me!
Packed full with fiber and Vitamin C, low in calories with plenty of antioxidants, plus many heart healthy benefits like help for coronary heart disease and cardiovascular disease, apples are a healthy choice for everyday snacking. They are known to help lower cholesterol, reduce inflammation not to mention overall helps to reduce the chance of many cancers. They truly are natures medicine!
I love to add apples to my juice blends and try to juice them 4-5 times a week. Here is a simple and delicious blend that I often enjoy.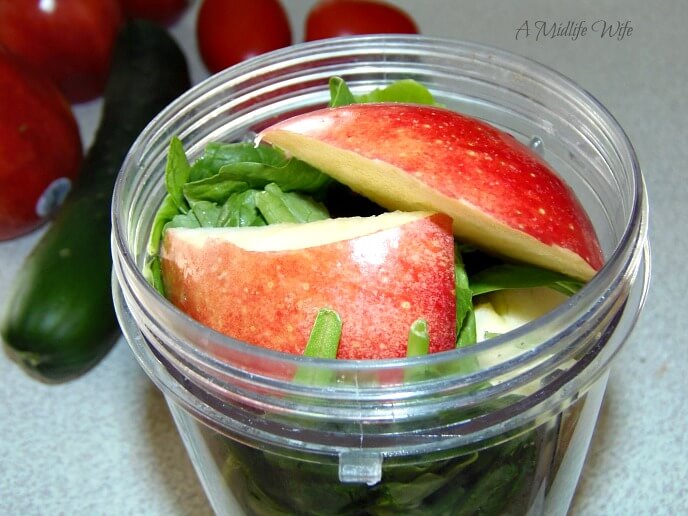 Apple a Day Juice Blend Recipe
Ingredients:
1 small to medium Gala or Fugi Apple, sliced
Handful of Spinach or other greens
4-5 pieces of celery
1/2 cucumber
10 mini carrots
1/3 cup apple juice (optional)
Filtered water to blend
Directions:
Load up your juicing cup and blend to the desired consistency. Enjoy!
The Apple a Day Juice Blend recipe is a quick and easy option for breakfast or lunch and makes a perfect snack anytime. Loaded with vitamins and nutrients your body needs, you are going to love the taste! Sooooo good! Hope you give it a try!