I have become a huge fan of Meredith Duran's writing over the past few years. I get excited every time a new release comes my way for review because I know I am in for a fabulous read.
The newest book in the Rules for the Reckless series is here and I am excited to share my thoughts on this new book. Plus, I am thrilled to be able to offer a giveaway for 3 autographed books in this series! Check it out below!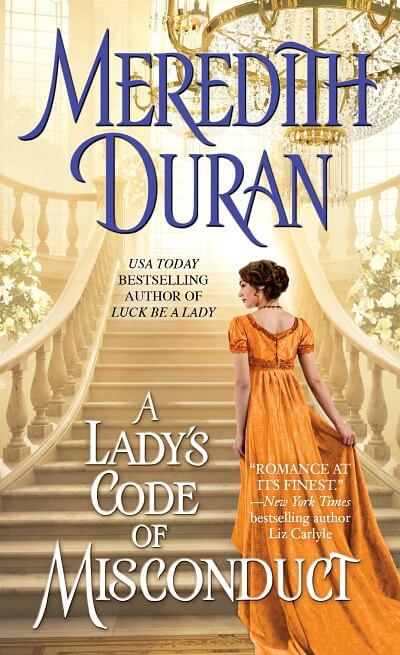 A Lady's Code of Misconduct
Rules for the Reckless series
By Meredith Duran
Publication Date: February 28, 2017
Pocket Books
ISBN: 9781501139024
Historical Romance
USA TODAY bestselling author Meredith Duran's A LADY'S CODE OF MISCONDUCT is the fifth sizzling novel in the Rules for the Reckless series—a sexy and evocative Regency romance between a famous heiress and an infamous crime lord.
Synopsis:
A DEAL WITH the DEVIL…
Trapped in the countryside, facing an unwanted marriage and the theft of her fortune, Jane Mason is done behaving nicely. To win her freedom, she'll strike a deal with the most dangerous man she knows—a rising star in politics, whose dark good looks mask an even darker heart.
…NEVER GOES TO PLAN.
The bitter past has taught Crispin Burke to trust no one. He'll gladly help a lovely young heiress, provided she pays a price. Yet when a single mistake shatters his life, it is Jane who holds the key to his salvation. And in a world that no longer makes sense, Crispin slowly realizes that she may be the only thing worth fighting for…
My review of A Lady's Code of Misconduct by Meredith Duran
I have read many of this authors works and they have all been very good. But this one is something special. I cannot put my finger on what the difference is, but I loved it!
From the amazing characters that Ms. Duran creates, to the growing depth of feelings that slowly creeps up on you, her writing is completely on point and captivates you.
I love that we have a female character with brains and brass ones. Not someone who is a weak fool that minces words with men, looking for her strength. But a woman that takes the bull by the horns and makes life happen for her.
Crispin is so different too! He started off an unlikable jerk but made a 180 and became an amazing man! I love his passion for life and for Jane. So refreshing!
The author has created the perfect love story. From sparks flying at the beginning to a slow growth of respect, protection, care, consideration, and love, the perfect couple is brought together as one. Such a beautiful and interesting historical story. You will never want it to end.
But when it does, you will have a perpetual smile on your face. Amazing read! Bravo! I loved and gave 5 Stars for A Lady's Code of Misconduct by Meredith Duran
About the author:
Meredith Duran is the author of ten previous novels, including The Duke of Shadows (winner of the Gather.com First Chapters Romance Writing Competition); Wicked Becomes You (included on the Woman's World List of Best Beach Reads for Summer 2010), and the USA TODAY bestseller and RITA Award Winner Fool Me Twice. She blames Anne Boleyn for sparking her lifelong obsession with British history, and for convincing her that princely love is no prize if it doesn't come with a happily-ever-after. She enjoys collecting old etiquette manuals, guidebooks to nineteenth-century London, and travelogues by intrepid Victorian women. Visit her at MeredithDuran.com, on Twitter @meredithduran and Facebook AuthorMeredithDuran.
Enter the Reckless Reward Giveaway
One lucky winner will receive a set (Reckless Reward!) of three autographed copies in the Rules for the Reckless series: Fool Me Twice, Lady Be Good, and Luck Be A Lady. Here is how to enter!
Giveaway Details: This giveaway is open to US Residents age 18 or over. You must complete the Mandatory Entry to be eligible. Follow the directions in the Giveaway Tool below. This giveaway will close on March 19, 2017 at 11:59pm PST Time.
Disclaimer:The Pocket Book brand provided me with a book for purpose of review. The thoughts expressed here are my own and you may not agree. Sponsor is responsible for prize shipment