Are you someone that ends up packing way too much for a trip and then only uses about 25% of what they bring? I used to be that way until I realized that packing only things I love and am comfortable in is the only way to go.
You may already realize that you should take only items that are absolutely necessary and just buy everything else at your destination, should you need something. If that sounds like what you do, you're on the right track.
Maybe you're not one of those people who packs everything including the kitchen sink, but here are some packing tips that you might not have thought about yet.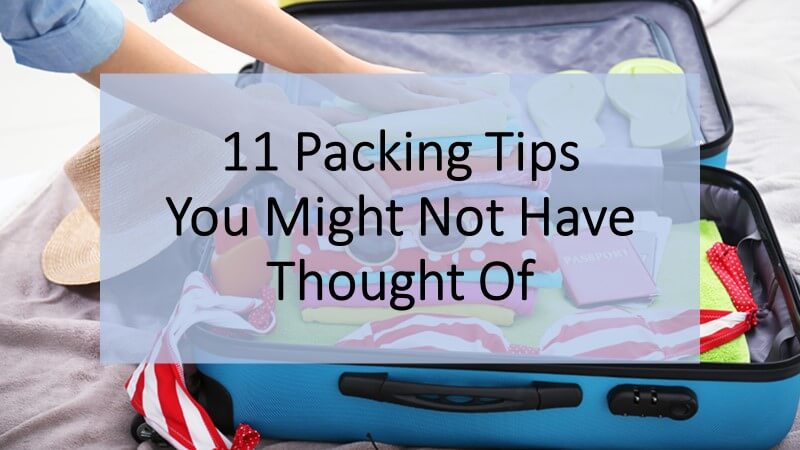 11 Packing Tips You Might Not Have Thought Of for Your Trip
• Pack clothing items that you're ready to give to charity. Wear them and then leave them behind after you've worn them one last time. If your destination is a developing country, locals will probably be very happy to get your used clothing. Plus, you then have room to bring back souvenirs!
• Use packing bags that compress so you can get more clothing into smaller spaces
• Choose clothing that can do double duty. For example, simple black pants are more versatile than blue jeans because they can be dressed up or down.
• In that same vein, layer two or three thin items instead of wearing one heavy sweater. Not only will you be warmer with layers, but you can take off a layer if you end up being too warm.
• If your airline still allows one carry-on bag plus a purse or backpack, your main carry-on should be the 4-wheeled type. They are far easier to push around than the 2-wheeled variety. Then, the personal bag or purse should be something that can be attached to the wheeled carry-on with a travel bag bungee strap.
• Put a brightly-colored pompom or a colorful strap on your checked bag to make it easy to recognize on the baggage carousel. In addition, the pompom will make it less likely that someone else will take it by mistake.
• Ziplock plastic bags are great for packing absolutely everything – clothing, cosmetics, charging cables, and more. And take along extra plastic bags for items that you might buy as you travel.
• Ziplock bags are particularly important for shoes that get dirtier than everything else.
• If you're going to a developing country, plan to have laundry done for you. The charge is generally very reasonable. That means you can take even fewer pieces of clothing.
• A clever way to make it easy to see all your packed items at once is to use a home-made divider. Here's how to do it.
Buy a piece of plastic poster board larger than your suitcase. Then, cut it to be the same shape and size as the interior of your suitcase. Make cutouts large enough for your hands on alternate sides. Pack some of your items in the empty suitcase. Then, place the poster board on top of those items and pack everything else.
When you're at your hotel, you can lift out the poster board with the items on top of it and set it somewhere convenient. Voilà! You can see just about everything at once.
• Put identification inside your suitcase. Don't trust that the identification you have on the outside of your suitcase will be safely attached once it has bounced against other luggage making the same trip.
In addition, paste your business card on the inside or staple it to an interior pocket. For additional protection, write your identification information in permanent black marker on the inside.
Hopefully, one or two of these tips will be new to you. Share your favorite packing tip below!